Meeting organizational performance challenges
Developing Leaders

Ensuring Effective Communication

Managing the Customer Experience

Driving Sales Growth

Improving Employee Engagement & Productivity
These topics can be tailored to meet your organization's distinctive needs:
Keynote at your annual conference, half or full-day workshop or series of interactive webinars.
LEADERSHIP & MANAGEMENT
Capable leaders inspire performance
Coaching Peak Performance: For any employee to reach their peak performance, they need a manager who can coach them to their best.  Learn the skills and process to maximize everyone's potential.
Value Your Workforce Diversity: An essential conversation in a global economy, this workshop is designed for manager and employees as we explore diversity in your organization. We'll discuss attitudes, perceptions, beliefs and values pertaining to such topics as race, gender, ethnicity, culture, language and background. You acquire the ability to create a more inclusive and productive work environment.
Does More Money Mean Motivation? Learn how to tap into employee's intrinsic motivation and generate tangible business results.  Find ways to gain long-term motivation beyond traditional rewards programs. Get their discretionary efforts without breaking the bank.
Empowerment – Letting Go: Managers will discover how to "let go" and empower their staff.  Learn how to delegate effectively in order to extensively improve performance.  An understanding of leadership styles allows participants to analytically determine tasks and strategically set priorities.
Change Management: Will Rogers once said: "Even if you're on the right track, you'll get run over of you just sit there."  So maybe you've changed the way you do business.  But getting everyone to Live the change can be challenging.  Using a proven pattern that can help you make the changes that matter to you, we develop a plan of action for you and your team.
Team Building (without ropes): It takes a cohesive group for people to accomplish an organization's objectives.  This workshop will help participants understand each other better, appreciate the differences and develop ways to come together for better performance.
COMMUNICATION
Effective Communication is essential to create a successful organization

The (Un)Spoken Word…Building Solid Communication Skills: Do you know what communicates the most immediately and has the greatest impact on the listener?  Whether you focus is on sales, management of a diverse team or simply improved relationship with co-workers, this session can provide you with the right insight and tools.  Reduce work conflict, have fewer mistakes, speed up solutions…all due to mis-communication and poor listening.
Communicating with Diplomacy and Professionalism: It's when you're under pressure or in a difficult conversation that you need the most tact and polish to achieve the best results. Learn best practice techniques and tools.
The Written Word: The tradition of writing a hand-written letter may be all but gone, but writing skills are still essential to a businessperson's success.  E-mails, advertising copy, contracts, proposals and more are still critical.  They all require a thought process that will connect you to the reader. Avoid all too common pitfalls and increase your clarity and persuasion.
Working with Difficult People:  What makes a person difficult to work with?  It could be them, it could be you, it could be work situations.  Let's analyze all the possibilities and provide you with solutions to smoothing out the relationships.  Your next "difficult person" may be your best customer or your star employee.
CUSTOMER SERVICE
Effective customer service is a critical ingredient in bottom-line growth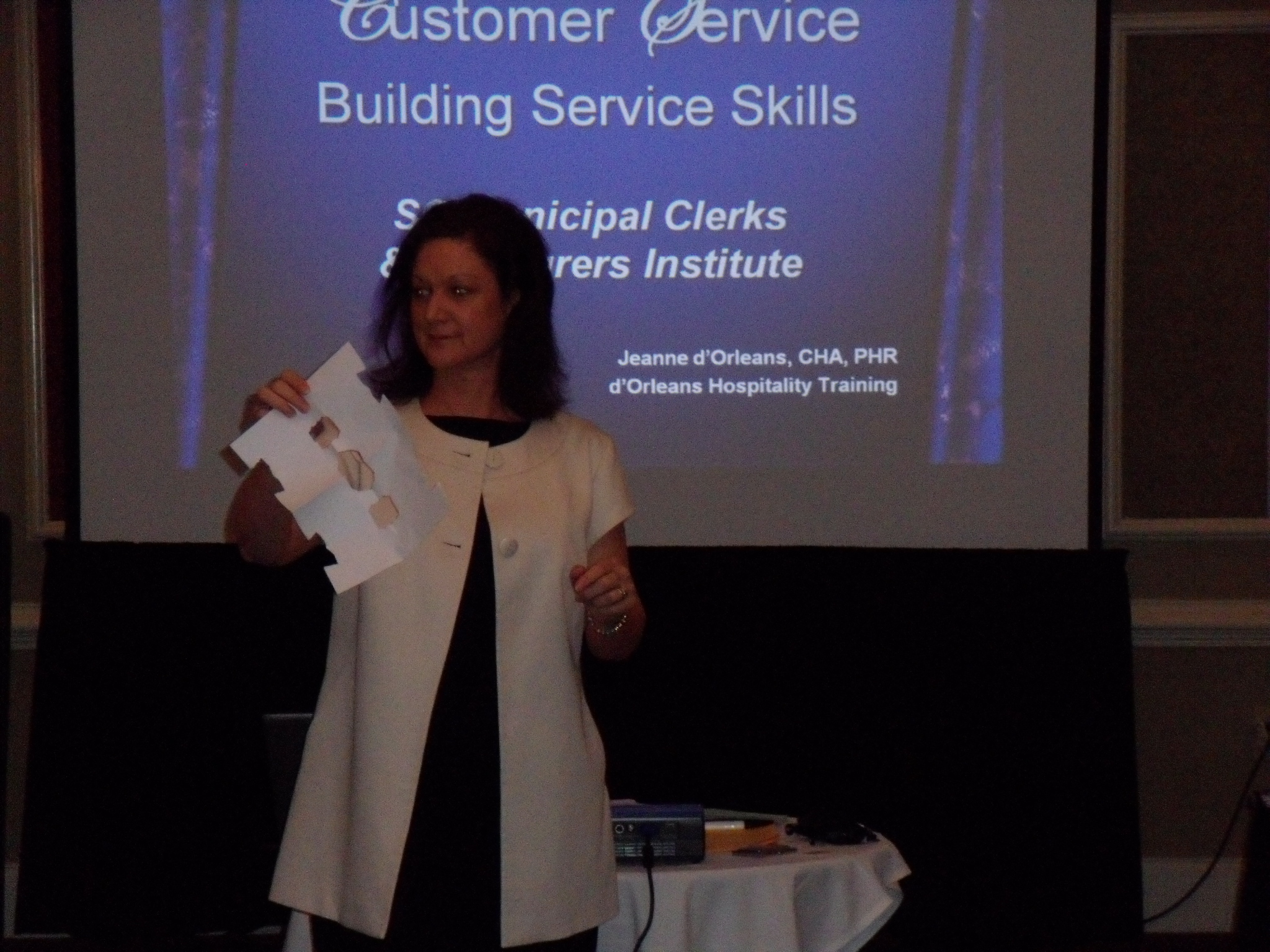 Exceptional Customer Service: Start with the Internal Customer.  That's rule #1 for us. Without that, you will have a more difficult time providing the level of service your external customer expects, no…demands these days. Through exercises, we'll ensure everyone owns the skills to take care of your customers, make them loyal and maybe even raving fans!
Convert the Angry Customer: Service Recovery can be one of your most valuable marketing tools. When handled correctly, your staff can actually turn unhappy customers into your most loyal advocates.
SALES & MARKETING
Everyone needs to have sales skills, whether responsible for bottom line or as a persuasive leader.

Talk Value:  The information you get is only as good as the questions you ask.  Learn how to craft questions that uncover what is most important to them and tailor your conversations to meet their real needs. Establish strong value propositions.  Remember, not everyone values the same thing.
Marketing to Women: Reaching the segment of the population responsible for 85% of all consumer spending is no small task.  Learn how women make decisions, the best methods of communication and pitfalls to avoid.
Social Media-Today's #1 Sales Tool: Don't let social media tools (Facebook, LinkedIn, Twitter, YouTube, Pinterest) confuse you.  They are not just for finding long lost friends.  Used strategically, they are the gateway for new business.  You'll leave this session set up and moving forward with a game plan.
HUMAN RESOURCES
HR competency creates high business value

Hire Right: Interviewing on the fly will get you exactly what you don't want. Increased turnover, unimpressive performance, team "issues".  Following a plan of action will produce a more cohesive high-performing team of happy associates.
Productive Performance Appraisals:  The annual performance appraisal should not be dreaded (by you or your staff). And it shouldn't be a surprise as to your opinion of their efforts for the past 12 months.  Come learn a process that engages, motivates and coaches your staff to be their best.
Harassment in the Workplace – No!  Whether Quid Pro Quo or the more insidious Hostile Work Environment, workplace harassment claims are extremely expensive. They can cost you financially and in trust. Most companies have a policy in place, but that's no guarantee that employees understand it and/or managers are properly enforcing it.  An essential class that great organizations do company-wide on a regular basis.
The presentation was well organized, delivered with enthusiasm and supported with great visual aids. You engaged the audience and provided valuable and interesting information.
You were marvelous, you know! We got so much from the Plenary session you did for us!
This is honestly the best class of any kind I've been to in my 7 years of service. This should be mandatory for all members in the Marine Corps.